Kerry is a main character and the leader of America four wars in a row.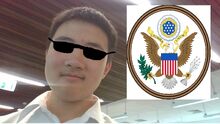 Personality
Edit
Kerry is debatably the most efficient leader in Geographia. His knowledge of politics, geography and history can only be matched by Michael. However, unlike his communist counterpart, Kerry isn't well read in philosophy. The few works he read includes the Communist Manifesto, which he secretly agreed with.
Kerry is based off Kerry Yeoh. A student at Glenunga International High School.
Relationships
Edit
Friends
Raad (Thanks for the fire merch)
Neutral
Enemies
- "THAAD incoming!"
- "ALIENS"
- "Status effect: RIP"
- "Reputation minus five"